江苏雪旺制冷科技有限公司地处长江流域经济开发带、江苏省双拥模范城、全国科技工作先进市的镇江句容市。我公司是中国铜铝管焊接行业标准化生产加工企业,产品包括空调用铜铝连接管、平行流冷凝器用进出铜铝管接头、冷库用大口径铜铝管接头、空调蒸发器用内机铜铝连接管、铜铝分配器、铜铝分配管和铜端铝毛细管等。铜铝焊接采用先进的插入式电阻焊焊接设备来进行焊接,改变原有的端面焊接接触面积小、易渗漏的缺陷,近年来,不断改进、优化套管挤压电阻焊技术,解决各种规格的铜铝管无间隙连接的难题,是国内外铜铝管焊接产品的标准化供应商。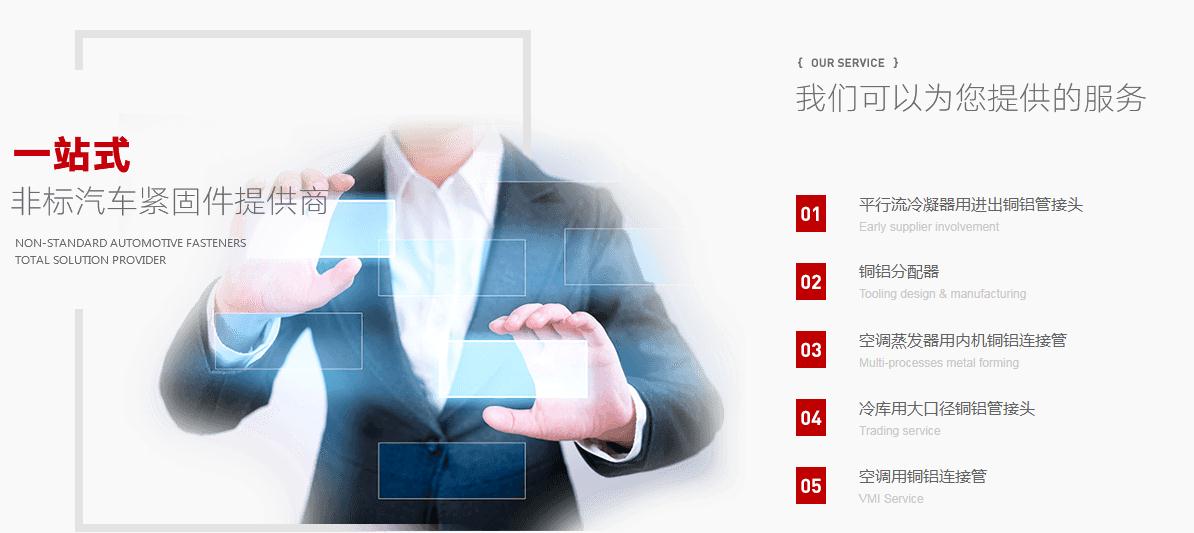 我公司始终坚持"以质量求生存、以信誉求发展"的经营宗旨。在产品品质上精益求精;在产品技术上坚持创新;在品牌形象上,不断推广;在产品信誉上,一直信守承诺。先进的技术、卓越的产品质量、优质的售后服务,使企业的产品赢得了市场认可,尤其我们开发生产的R410专用铜铝管深受国内外用户好评,远销世界各地。
企业要发展,品牌是灵魂。在当前激烈的市场竞争环境中,品牌的重要性不言而喻,我公司自成立至今,坚持将品牌建设作为企业发展的重要战略来抓,对内增强凝聚力,对外增强核心竞争力,不断塑造企业形象,坚持品牌引领,打造行业标杆!

ABOUT JiangSuXueWang
Company profile Jiangsu Xuewang refrigeration technology co., LTD. Is located in zhenjiang jurong city, which is located in the economic development zone of the Changjiang river basin, model city of jiangsu province, and the national advanced city of scientific and technological work.
Our company is a standardized production and processing enterprise in the copper-aluminum welding industry in China. Our products include copper-aluminum connection pipe for air conditioner, copper-aluminum connection pipe for parallel flow condenser, copper-aluminum connection pipe for cold storage, copper-aluminum connection pipe for internal machine of air conditioner evaporator, copper-aluminum distributor, copper-aluminum distribution pipe and so on.
Copper aluminum soldering adopts advanced plug-in electric resistance welding welding equipment for welding, change the original face contact area is small, the defects of easy leakage, in recent years, continuous improvement, optimization of casing extrusion resistance welding technology, to solve all kinds of copper and aluminum tube without the problem of gap junction, is the standardization of copper aluminum tube welding products suppliers at home and abroad.
Our company always adhere to the "quality of survival, reputation and development" business purposes. Keep improving on product quality; Innovation in product technology; In the brand image, continuous promotion; In terms of product reputation, we always keep our promises. Advanced technology, excellent product quality, high quality after-sales service, so that the enterprise's products have won the market recognition, especially we develop and produce R410 special copper and aluminum tube by domestic and foreign users, sold around the world. Enterprise development, brand is the soul.
In the current fierce market competition environment, the importance of brand is self-evident, our company since its inception, adhere to brand building as an important strategy for enterprise development, internal cohesion, external enhancement of core competitiveness, continue to shape the corporate image, adhere to the brand leading, create industry benchmark!